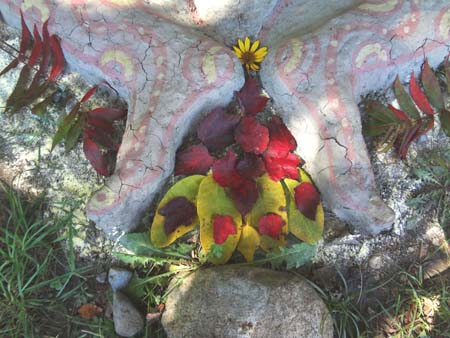 Nurturing a Sacred Intimate Connection with Planet, Spirit, and Self through Expressive Self-Development Practices, Creativity, and Ritual.
A Five- Weekend Intensive through the University of the Wild at Earthlands
Facilitated by Katja Esser
"Mother, you are calling me home. My feet hungrily dance upon your moist cool skin. My toes spreading to take hold of some ancient memory to a primordial connection, surging upward as sensuous luscious waves. The exquisite undulating life force ripples through my being, awakening the unedited within. Like water I move to kiss your sweet face and open to the sea of infinite possibilities."
This five-weekend intensive is a Heart- and Earth-centered personal transformation process that is geared towards bringing participants into intimate connection with their own self, body, earth, nature and spirit by tapping into their imaginative, creative, and aquatic memory. We have entered the New Era with the realization, through quantum physics and Indigenous Wisdom, that we are deeply connected to everything that is. We are so connected that we are masters in the creation of our own reality. With conscious awareness we can direct our choices and co-create a world we'd like to live in and that is regenerative. We support the soul's emergence to move towards something greater, to serve through our unique gifts and capabilities, and to know who we truly are.
We slow down to listen to the natural world riddled with treasures and riches we barely comprehend, and that consists of complex intelligent systems which respond to what we bring to it. Deep inside the intelligence of our own system and the memory within our bones, we hold a knowing that goes beyond survival which taps into the exquisite and life affirming qualities that allows us to court the sacred. As we awaken and tend to our spiritual seeds of self-expression, creativity, and imagination amidst the beauty, vibrancy, and richness of ritual, the sacredness of all living and non-living beings can be restored and fed.
Creativity feeds the soul, as well as spirit, particularly in the context of ritual and intention. Through creativity we see the infinite in action, pushing us to move beyond our limitations and beliefs. In this program, participants are given tools to enter into a vibrant relationship with self, spirit and planet as they engage in a sacred creative and listening process utilizing breath, sound, movement, rhythm, various art forms, and question-based practices. The program draws from Indigenous Wisdom, contemporary visionaries and Katja's personal experiences to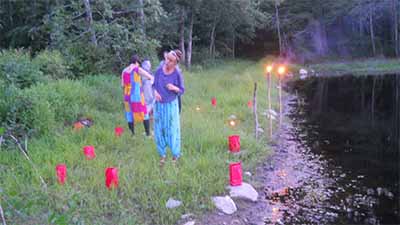 create transformational rituals and practices that address the stories we carry, unravel fixed points of view, and the many layers of judgment. We build bridges from grief to joy, from limitation to infiniteness, from contraction to expansion, from us to our ancestors, from the individual to community, and from communication to people to communication with the natural world. Each weekend builds on the previous one to bring the participants deeper into the process of questioning the beliefs that keep them from intimate connection. The five weekends utilizes the five elements of fire, water, earth, nature and mineral, from the tradition of the Dagara people of West Africa, to weave a connected worldview. Courting the living world becomes a way of life.
Central to the program are:
Healing our relationship with our Ancestors

Diving into our Aquatic Ancestry - fluid resonance within and without

Creativity and self-expression as a doorway to Spirit

Embracing the Magical by entering the Library of Nature

Honoring the way of the Earth - Abundance, Nurturance, andReciprocity

Transforming our stories – embracing the Infinite Self
The first weekend opens the door to healing and deepening our relationship with our ancestors. We work in community that is supported and guided by a community of Ancestors. We spend time in deep ritual, heart centered prayer, elemental understanding and nurture our allies in the spirit world. The second weekend brings us into the mystery of water and our aquatic ancestry that we carry inside which transforms and informs us in innovative ways allowing us to shift our relationship to our environment at a cellular level. We immerse ourselves in the healing vibration of water, explore some of its astonishing qualities and its integration in our lives. The Third weekend brings us deeper into connection with our bodies and the body of the Earth. We address issues of nourishment, support, and abundance linked to our relationship with our parents and our Mother Earth. We celebrate the Earth's creative abilities with our own creativity. We look at Mother Earth as a living organism and the indigenous way of relating to her. The fourth weekend brings the elements we have laid out to nature where we enter the magical, the play and the call for authenticity. Forms of self expression, to allow spirit to touch us, are explored in a variety of ways to mold us and engage our ability to shapeshift and receive messages from nature's realm. The final weekend brings us to mineral, the bones of the earth that holds the story of our planet and our own bone knowing. We tap into the ancient planetary memory, utilizing the tools and intelligence of systems we have explored to transform our story and allow our soul to evolve so we may experience our deepest purpose.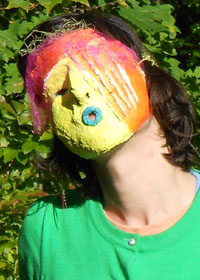 The program runs for five weekends in 2012, starting Friday evening till Sunday afternoon.
June 28 – 30, July 19 - 21, Aug. 16 - 18, Sept. 13 - 15, Oct 18 - 20
This intensive takes place in a rustic setting in an off-grid cabin and a 24' fabric yurt within a large protected forestland. To assure affordability, participants sleep in the cabin or tents and share assigned meals. Part of the program is conducted out-of-doors. The program takes place at Earthlands in Petersham just East of the massive Quabbin Reservoir in central MA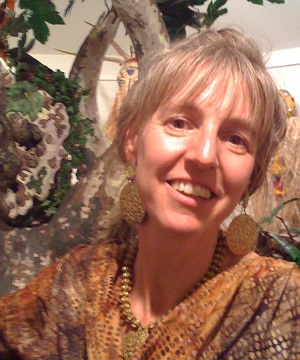 Katja Esser is a multi-disciplinary artist, ritualist, teacher, performer, and healer, who inspires through self-expression. She has run annual seasonal rituals since 1992 of which Summer Solstice at America's Stonehenge is most well known. Her singing and her extraordinary elaborate masks and costumes bring forth beings from another world. Katja has facilitated drumming circles, workshops in sound, continuum-based movement, ritual, and maskmaking. She studied with Emily Conrad, Malidoma Somé, ALisa Starkweather, Eric Bornstein, Martin Prechtel, Saruah Benson, and many others. She serves as a senior instructor and advisor to the University of the Wild at Earthlands. Katja comes with her passion for ritual, a deep commitment to the soul's journey, and a sweet caring for our planet Earth and its inhabitants.
Contact Katja for more info at 617 365 4024 or email: katjacreates@ritualexpressions.com or visit Katja's website: http://www.ritualexpressions.com/and www.universityofthewild.org
Cost for the training: $1250
Payment plan affordable to all.
There is also limited financial aid available.
Please make a minimum deposit of $150, out to Earthlands or email office@earthlands.org to pay with paypal. Please, fill out the attached registration form and send it by email or snail mail to Earthlands. Click here.
Cancellation Policy: Cancellations received before June 20 will be refunded minus $25 for processing and handling fee. June 20 and after the deposit will not be refunded. Thank you for your cooperation.
What people and participants have said about Katja's work:
"…You gave me back my soul…" Doug
"…You inspired the group with your grace, love and style..." Mark
"...I am moved by your creative fury and your deep connection to Mother Earth. A splendid combination with a bright future…" Dagen Julty
"…Katja is walking, breathing, dancing art...." Ina Moffett
"…I remember opening my eyes and transforming into a child again with a heart bursting with glee and excitement as I saw before me something I always new to be true. A living, walking and talking tree. I couldn't move, my mouth full with an huge smile, my eyes shinning as bright as bright can be, and all the while being in awe that one of my dreams had manifested right in front of my eyes." Selena Goldberg
"…Experiencing nature from a spiritual point of view has been extremely grounding and helpful on my journey to feel at home in the world. Now I am comfortable in the forest, the dirt and the rivers, they feel more like home.
Katja was able to honor my truth and inner difficulties. I was exposed to many new ideas and tools that are very helpful. I learned more about inner listening, trust, faith, nature, and myself. With Katja's guidance this initiation has brought me more inner peace and a feeling of the nature-spirit connection. Katja is extremely gifted and I feel so lucky to be learning and receiving from her!" Alison B Levy
"…My favorite part of each weekend was the ritual. Of course, I realize everything pre and post the ritual added a lot. I think you have a very worthy gift around ritual...For me each ritual had an 'original' quality….there was always the 'surprise' element making each one new and fresh...Participants were held in an embracing energy that allowed one to go as deep as one wanted in meeting the challenge presented within the ritual. It was all exquisite.." Susannah Wolfe
"Courting the Living World is really an amazing program... I have participated in many workshops and trainings over the years, but this one, Courting the Living World, shook the very essence of my being and moved me to a new level of understanding my own spiritual and career path. Katja, with the experience and wisdom of a mentor, shaman, ritualist, and teacher, elegantly guided each participant safely through the ever deepening journey of Ancestral Connections, Spiritual Insight, and practical "everyday" empowerment. … Katja is at home...she meanders the seasonal changes, the energetic fluctuations, and the wise teachings of the Ancient Ancestors and the modern teachers, alike… " Dr. Larry Buell, Founder and Senior Advisor, Earthlands and the University of the Wild.