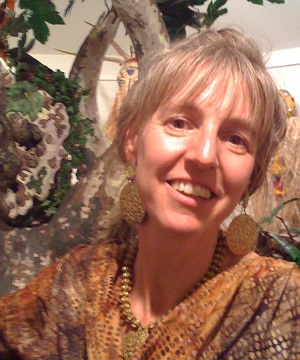 Katja Esser leads an ongoing stream of rituals, workshops, and other events.
A current list of events is available on the
Ritual Expressions FaceBook page.
Katja is an inspirational artist, mask and costume designer, ritualist, teacher, photographer, healer, and performer. She has exhibited her work in the Netherlands, New York, and Boston. Katja has studied different forms of movement and voice. She has created sacred ceremonies for the seasons since 1992 for small and large groups of people of which the Summer Solstice at America's Stonehenge is most well known.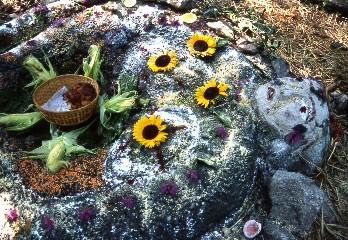 She is deeply involved in African based spirituality with Malidoma Som?/FONT> and the East Coast Village, which has brought her to Africa a few times. She draws from a variety of great teachers such as Martin Prechtel, Rikka Zimmerman, and Emilie Conrad. Katja facilitates rituals and gives talks at colleges and universities. She has taught Continuum based movement, courses in ritual, facilitates Grief Rituals, and Sacred Sound Circles. Katja has sung with Bonesong, an improvisational sacred singing quartet that sings in a cave. She performs with the Theater Behind The Mask in schools through Young Audiences and at First Night Boston. She created a performance around 'The Hidden Life of Trees?with Ricardo Frota in which she appears in a full tree costume that took her a year and half to make.
Katja launched her Apprenticeship program, 'Courting the Living World? in 2010. In this program, participants activate their intimate connection to self and planet. Katja has an extensive website www.ritualexpressions.com at which her work can be viewed.
What people said about Katja's work:
"Beautiful, sweet woman, with a voice that enchants the wind, the earth, all gods creatures. You are so loved. Thank you for all you brought to us this past weekend.?- Joy
"You are extremely gifted and I feel so lucky to be learning and receiving from you!?- Alison
?wonderful to see you in your element; confident, relaxed and effective... just awesome. I'm honored and grateful to have been able to share this experience, and my heart is humbly thanking you over and over...?- William
"Thank you for your powerful voice, drumming, ritual, space, magic, beauty...............this weekend! Was truly an honor to receive your gifts? - Maria
?You continue to amaze me even with all I know of your creative and spirit genius? - Bud
Click here for 'How do we pray??/A>
---
EVENTS AND WORKSHOPS - 2013
March 17, April 21, and May 12 - Improvisational Sacred Sound Circles
March 22 Ritual ?Vernal Equinox, Earthlands
March 23 Ritual - Vernal n itEquinox, America's Stonehenge
April Grief Ritual to be announced
April Sound Circle to be announced
June 21 Ritual ?Summer Solstice, America's Stonehenge
June 28 ?30 Intensive ?Courting the Living World part 1, Earthlands
July 19 ?21 Intensive ?Courting the Living World part 2, Earthlands
August 16 ?18 Intensive ?Courting the Living World part 3, Earthlands
September 13 ?15 Intensive ?Courting the Living World part 4, Earthlands
September 21 Ritual ?Autumnal Equinox, Earthlands
September 22 Ritual ?Autumnal Equinox, America's Stonehenge
October 18 ?20 Intensive ?Courting the Living World part 5, Earthlands
December 21 Ritual ?Winter Solstice, America's Stonehenge
December 22 Ritual ?Winter Solstice, Earthlands
---
Improvisiational Sound Circle
Dates Feb 24, March 17, April 21, and May 12 all Sunday afternoon from 2 - 5 pm.
At the Cottage or Woodland Yurt at Earthlands, Petersham MA
Come with your instruments, sound makers, and voice in the spirit of joy and co-creation to bathe the living world around us in beauty. We praise the Earth with her changing face, begin to awaken her to the new dawn, and in the process massage every cell of our body in the soundscapes we create.
Hosted by Katja Esser

Bring a healthy non-gmo snack or non alcoholic beverage

$5 donation requested

Directions and info on Earthlands posted below.

Address: 39 Glasheen Rd, Petersham MA 01366
Email: katjacreates@ritualexpessions.com
Phone: 617 365 4024
Website: www.earthlands.org
---
Vernal Equinox Ritual 2013
Illuminating the Awakening Soul
Friday March 22, 2013
7:00 pm Evening Ritual
Near the 'Cottage?at Earthlands, Petersham MA
Saturday March 23, 2013
1:00 ?4:00 PM Ritual
At America's Stonehenge, NH
To honor the appropriate feeding of the spirit world and to optimize what you get out of this ritual there is some preparation involved that you are asked to do at home. If you do not have time to read it all please go to 'What to bring? below.
Looking at her thick white robe with its drifts and bulges, obliterating any definition, I saw that the sky's yawn had exploded in the Mother's lap and settled briefly into a sense of restful expansion. In one moment the icy breath pounds on her hardened skin, the next moment the air relaxes and misty clouds dance upon her receding mantle. Sudden changes stir the Mother in her restless sleep. Her dreamtime becomes short lived, as her skin hardens and softens, seeming to be in an ongoing labor. The first bulbs showing their tips are halted in their eager advancement. Winter has a hard time to establish its firm grip. The exalted cries of Spring echo softly, tantalizing Winter's meditative silence, letting him clearly know that Spring is pounding on his door.
Also we have been in an ongoing labor and are eager to get out of the womb of illusion to move into the expression of who we truly are. It is hard to stay asleep in world that no longer works for us and the expanding energies are stirring us awake. According to the Dagara People of West Africa we have entered into a nature year which is all about transformation and change. Nature with its magical abilities and authenticity calls for truth and rips the mask off for us to see through the illusions and literalness of our realities and beliefs. Nature embraces what is, intricately linked to all that is it co-creates and expresses itself letting reality follow it, instead of it following reality. The awakening moment is unstoppable; the surge to thrive breaks through old skins, tough shells, and malleable placentas singing life loudly into existence.
Brand pilot series replica watches and Portofino Fino series fake watches are the kind of customers love, especially the atmosphere and has a good quality pilot series watches, sold well. Among the many of the classic pilots, a large aviator replica watches uk attracts our attention as the Titanium 7th Aviator watch on the uk replica watches market in late 2017.
Preparation is a big piece of the ritual. To receive the full benefit of the ritual as well as seeing the effects of each one bringing their piece to feed the whole it is important that you bring the items described below to the best of your abilities. Katja Esser facilitates this community oriented ritual and you can expect it to be very participatory
What to bring:
- A piece of green cotton fabric (please no synthetics) about 1 square yard that symbolizes your old skin, the vibrational seed pod or box you have adopted to live in. It is the skin of the illusions of this reality. It holds all the - I am not worthy, I am not good enough, I am not lovable. You can decorate it, write on it, anything that pertains to your definition of self in a reality of illusion. Thank it since it has given you the exact information to now be able to make the change to birth into 'who you truly are? You will not get this piece back.
- An umbilical cord made with different colored strips of cotton fabric of about 1 yard long each in length and about 1 ?inch wide. This umbilical holds all the lies, conclusions, judgments, and evidence for your point of view you have been feeding yourself with to keep you in your vibrational pod. Looking at 'I am not worthy? how does this show up in money (green cotton), relationships and sexuality (red cotton), health (blue cotton), life work, self-expression and creativity (yellow cotton), spirituality (white cotton)? Tie a knot for each lie, conclusion, judgment or evidence you can come up with for your point of view about money. Do the same with all the other strips of fabric. Once they are all knotted tie them together in one long cord that is your umbilical.
- A small wreath made of life evergreen branches of which the inside diameter is 10 inches. Use cotton string to hold it together and with weaving it around you see the life you like to have already into existence. The opening becomes the symbolic portal through which you birth your vision each time you push your string through it.
- Bring 4 seeds, 1 natural feather and some tobacco
- Bring Spring flowers that are open, a flash light, drums or other sound makers if you have them, some finger food for after the ritual, raingear if needed and your own water to drink. Make sure you dress warm.
Donation: At Earthlands ritual $9 - $13
At America's Stonehenge the entry fee paid to the visitor center is $11 and an additional donation of $5 at the ritual site is appreciated.
Who to contact: Please contact Katja at (617)365 4024 or email at katjacreates@ritualexpressions.com Website: www.ritualexpressions.com or www.stonehengeusa.com
Directions to Earthlands - From Rt 2 take exit 17, take 32 South to Petersham. At center of town, at country store, take a left on East St. Go for about 2 ?miles. Take a left on Glasheen Rd, follow the sign to Earthlands/ University of the Wild. Park in lot A and follow signs to the left to ritual site. Address: 39 Glasheen Rd, Petersham MA 01366
Directions to America's Stonehenge: From I 93, take exit 3 in NH, take Rte 111 East (app. 5 mi., crossing Rte 28) to Island Pond and Haverhill Rds. (there will be a sign here for America's Stonehenge on your right). Follow Haverhill Rd. south to entrance. The address is 105 Haverhill Rd, Salem NH 03079.